Let's say you're really interested in buying a stock. How can you figure out if it's a good time to buy? One helpful framework is to look at Valuation Multiples. In this article, we explain what a Valuation Multiple is and how to access them on 100,000+ stocks globally!

1. A valuation Multiple is a quick & dirty valuation tool. The Multiples method is just a shorthand way of valuing the company and is a proxy for a Discounted Cash Flow (DCF) valuation.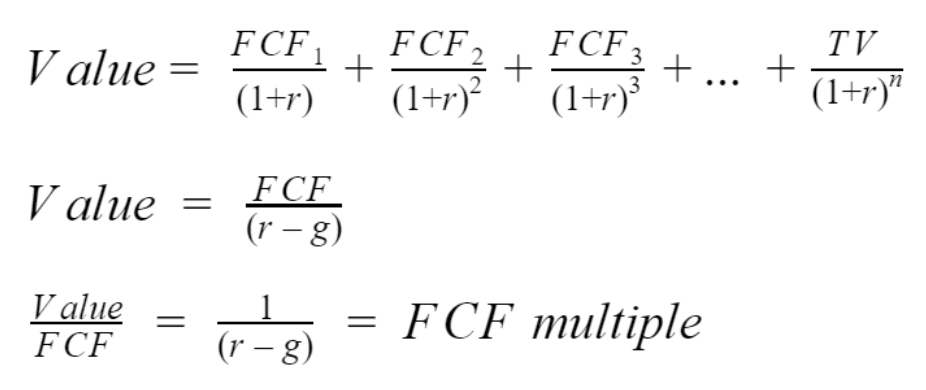 A multiple is simplistically the number of years of Free Cash Flow (FCF) or earnings that you would be willing to pay for a business. The numerator in the multiple is usually an indicator of value (EV, market cap) & the denominator is an indicator of earnings power (e.g. FCF)

2. There are many different multiples that are used depending on the situation, such as EV/Revenues, EV/EBITDA, P/FCF, the famous P/E multiple, etc. The company's current multiple is usually compared to (1) its own historical multiple and (2) the multiples of peer companies.

3. You can easily access all of the valuation multiples on TIKR! Use the search bar at the top to pull up the data for your relevant company. Then go to Valuation in the left navigation bar.




4. Here you can access a huge list of Valuation multiples for your target company. We show Forward Multiples where the denominator has a forecasted future metric taken from the Estimates tab. Forward Multiples are based on Next Twelve Months (NTM) metrics.

5. We also have Trailing Multiples where the denominator is based on already reported actual numbers. Trailing Multiples are based on the Last Twelve Months (LTM) metrics. We add up the last 4 quarters of actual reported data (e.g. revenues).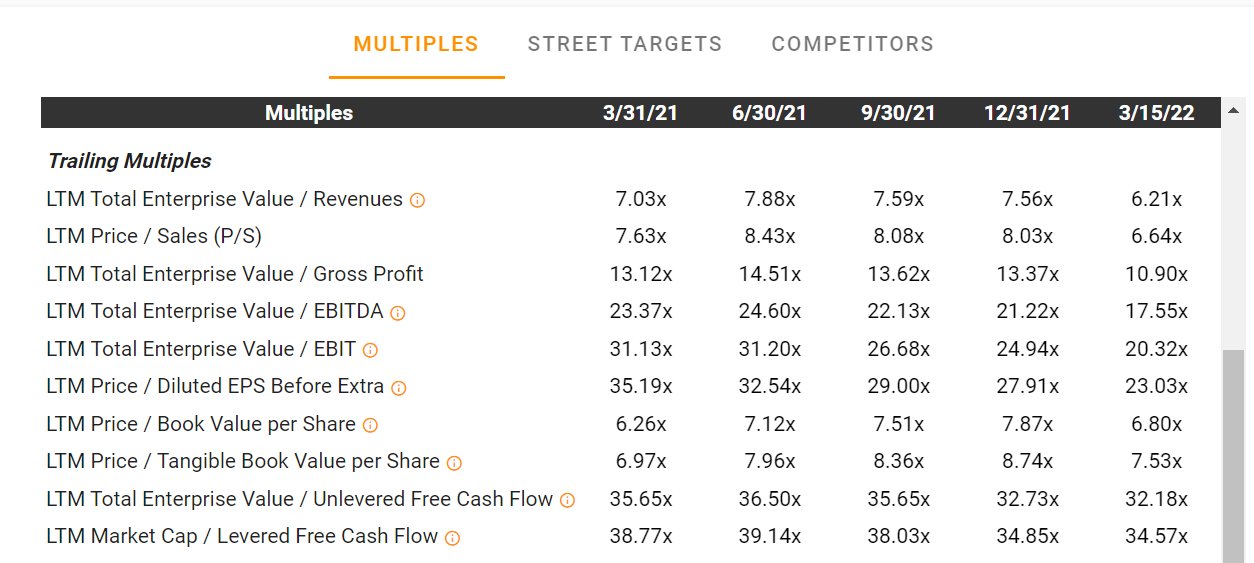 6. You can also see the individual factors that went into constructing each of the multiples on the Valuation tab.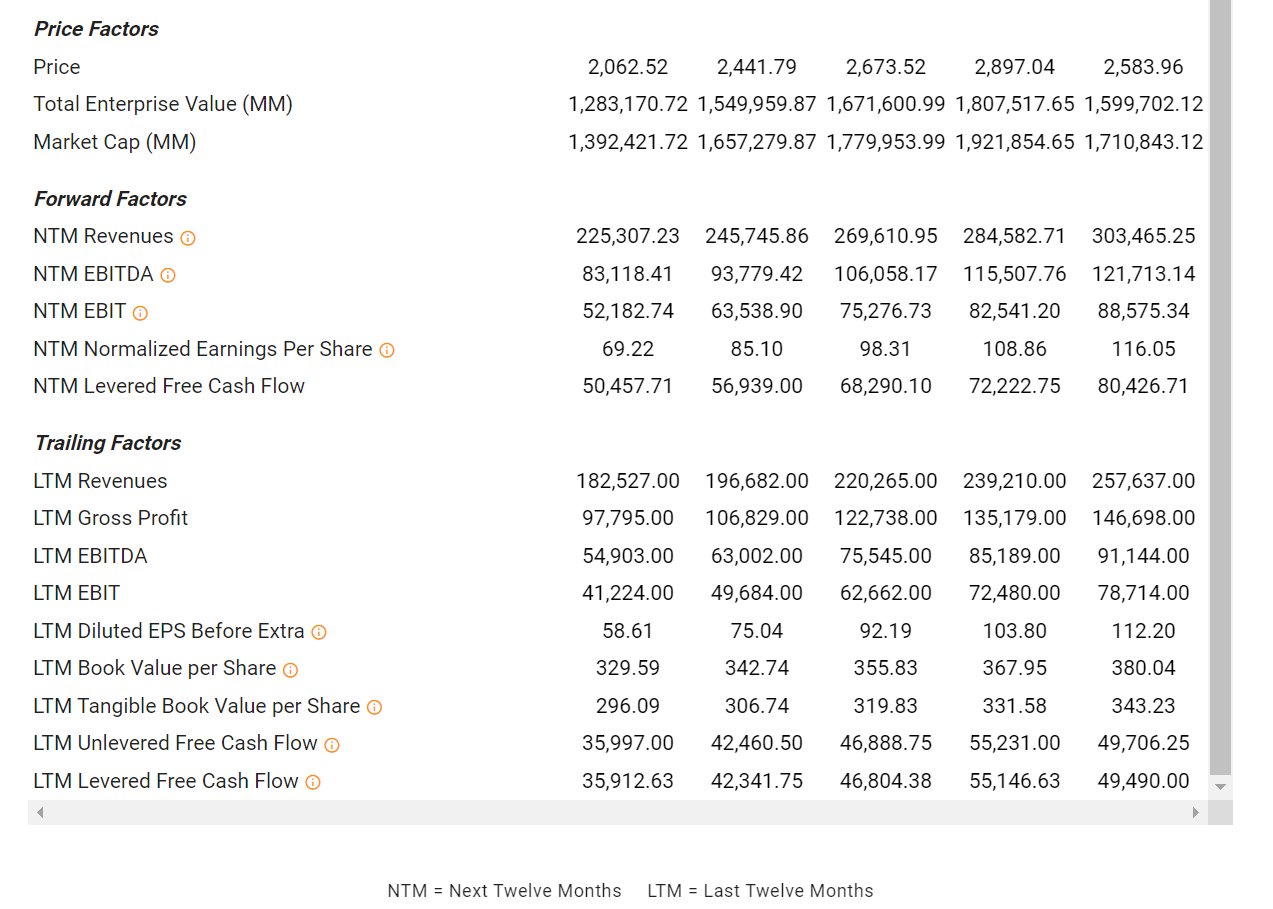 7. Remember how the company's current multiple is generally compared to its own historical multiple? In the table, you can see the company's historical multiples as of those dates. A better way is to view it in graph form. Simply click on the row(s) to create a chart!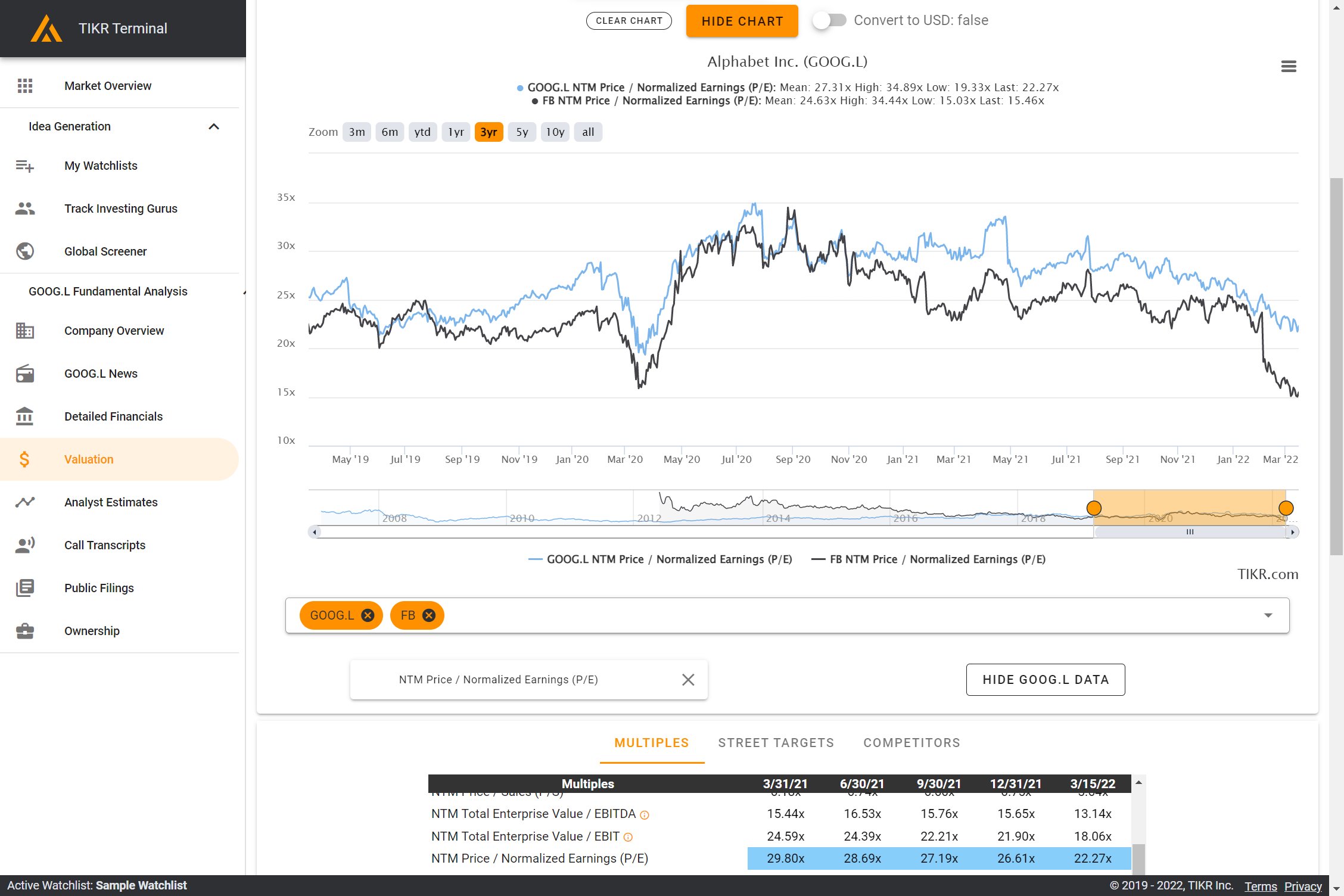 Here you can see the Mean, High, Low, and Last Close Valuation multiple for your company. You can drag the orange dots to expand the timeframe or simply click on the preset Zoom buttons to view 3 months, 1 Year, 3 Years, etc. You can also add other companies to the chart!

FB seems to be trading at ~16x NTM P/E vs. its 3-year avg. 25x P/E. FB seems interesting as a buy at first look but the denominator is based on NTM Wall Street analyst estimates. It's important to do your own diligence on the long-term earnings trajectory for FB!

8. As an aside, we also have helpful valuation metrics for REITs like P/FFO, P/AFFO, etc.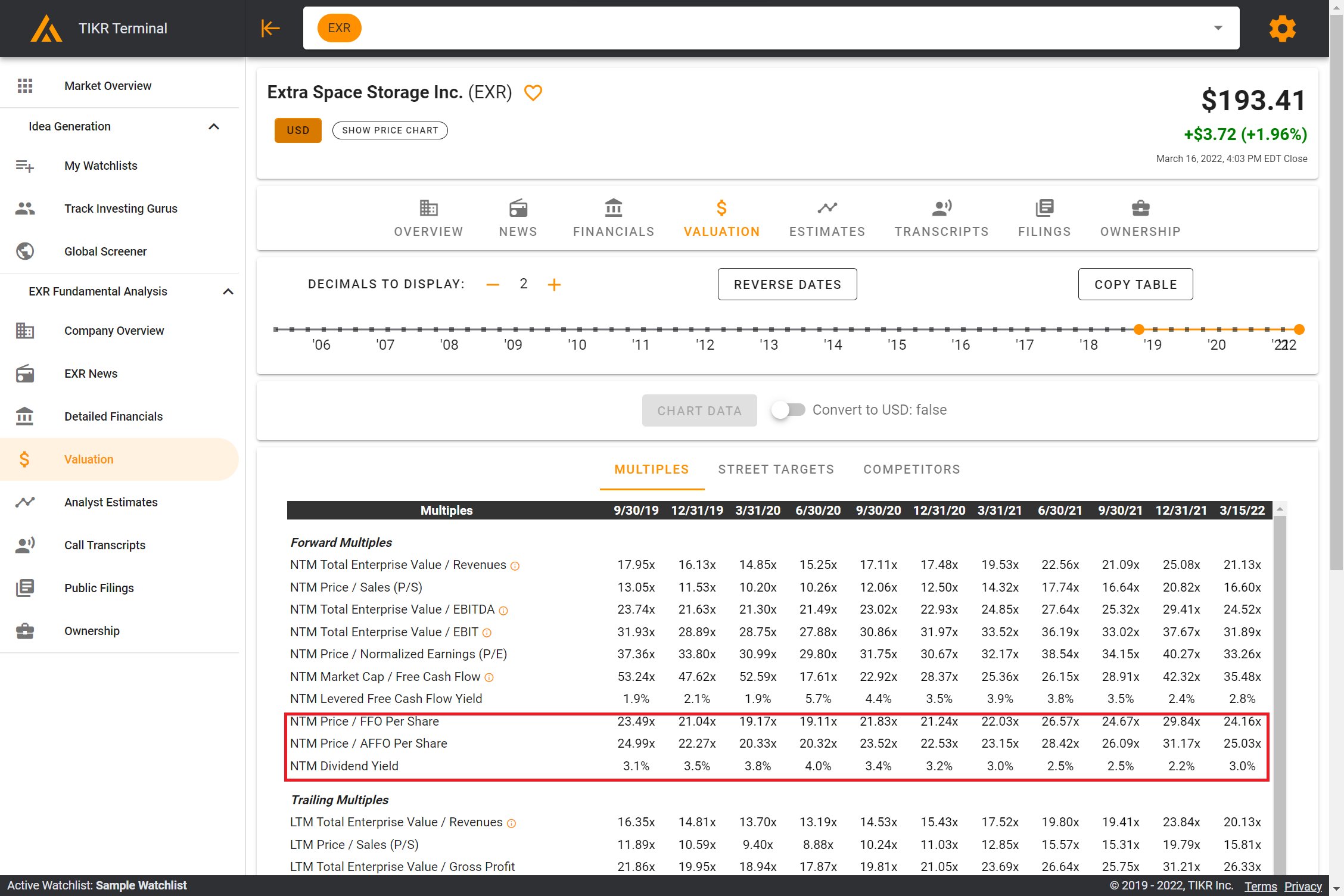 9. The other helpful tool on the Valuation tab on TIKR is the Street Targets. Here you can see Street Price Targets for companies, Street Recommendations, and Street Estimates for helpful metrics like Net Asset Value.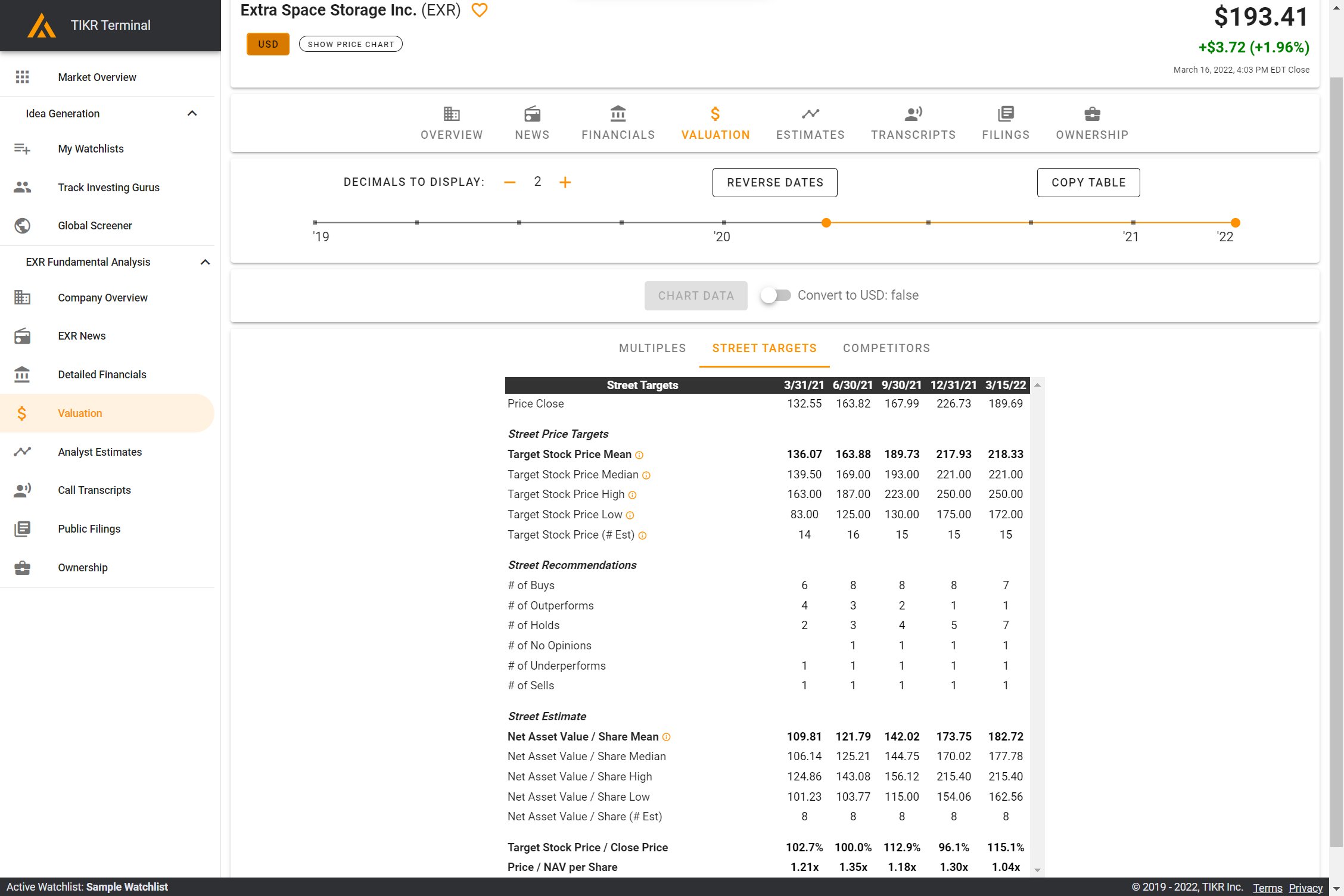 10. Remember how the company's current multiple is also compared to that of its peers? In the Competitors tab, you can see a list of potential peers. Here you can easily compare your company's current multiples to that of its peers. We also have a Summary Table at the bottom!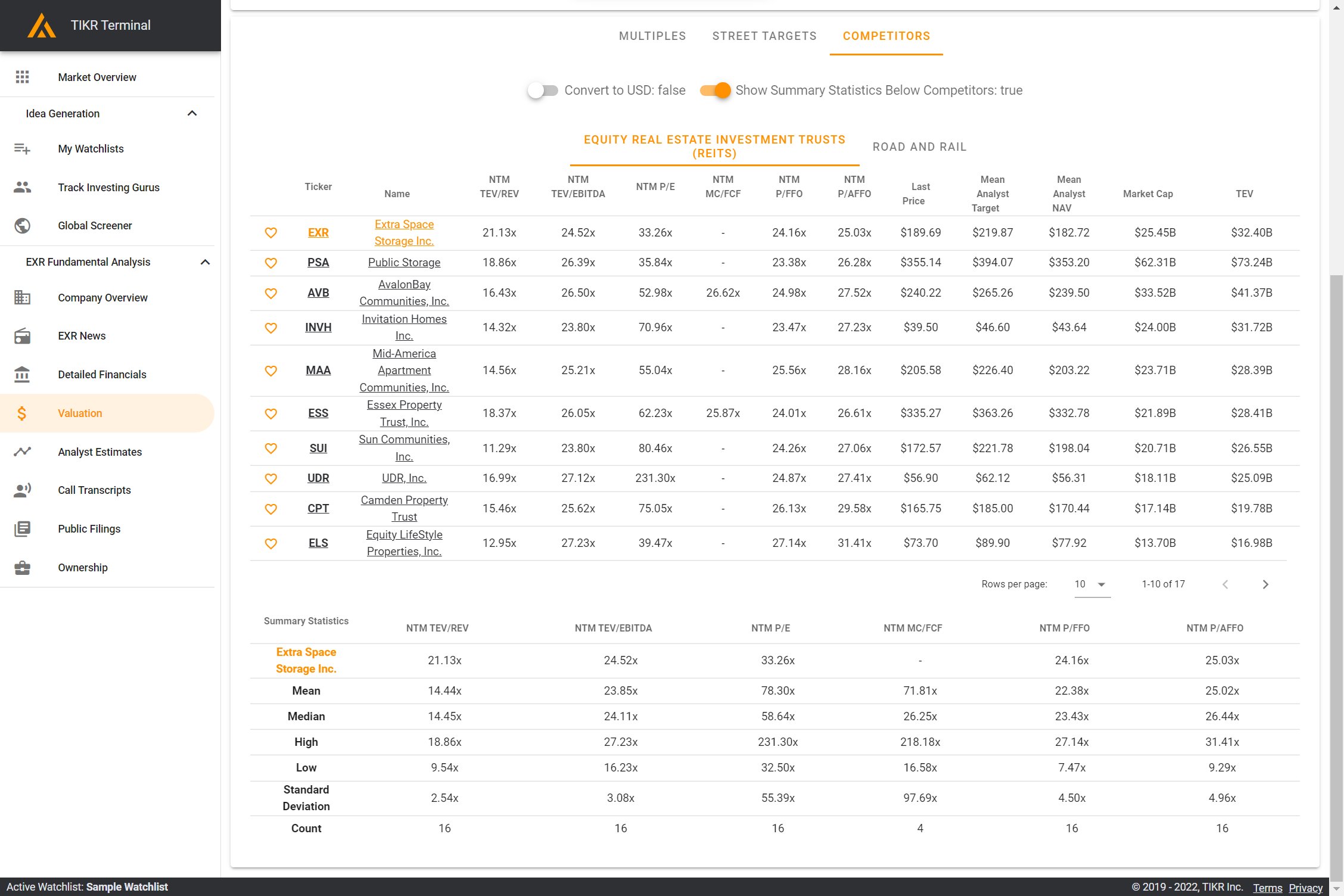 11. You can also easily create your own Comps table by clicking on the hearts and creating your own watchlist with your target company & peers. Check out our article on How to Set up a Watchlist on TIKR

We also put together this video on how to best use the Valuation feature on TIKR!




Source: https://twitter.com/theTIKR/status/1504203455203741696